If Party at the Moontower were transformed into the spirit of one wedding, this would be it. Which is why we said, "OMG yes!" to this beautifully executed Modern Ranch Wedding styled shoot in partnership with The Shootout Society, XO Moreau Weddings, Camino Real Ranch, Good Seed Floral, and Table Manners.
The Venue: With multiple gorgeous picture perfect areas and structures on site, Camino Real Ranch truly embodies Austin… Lets see if we can capture it with a few en vogue adjectives pairings: modern ranch, desert chic, rustic cool, Texas modern. In other words, perfect for couples who value their individuality and care about style.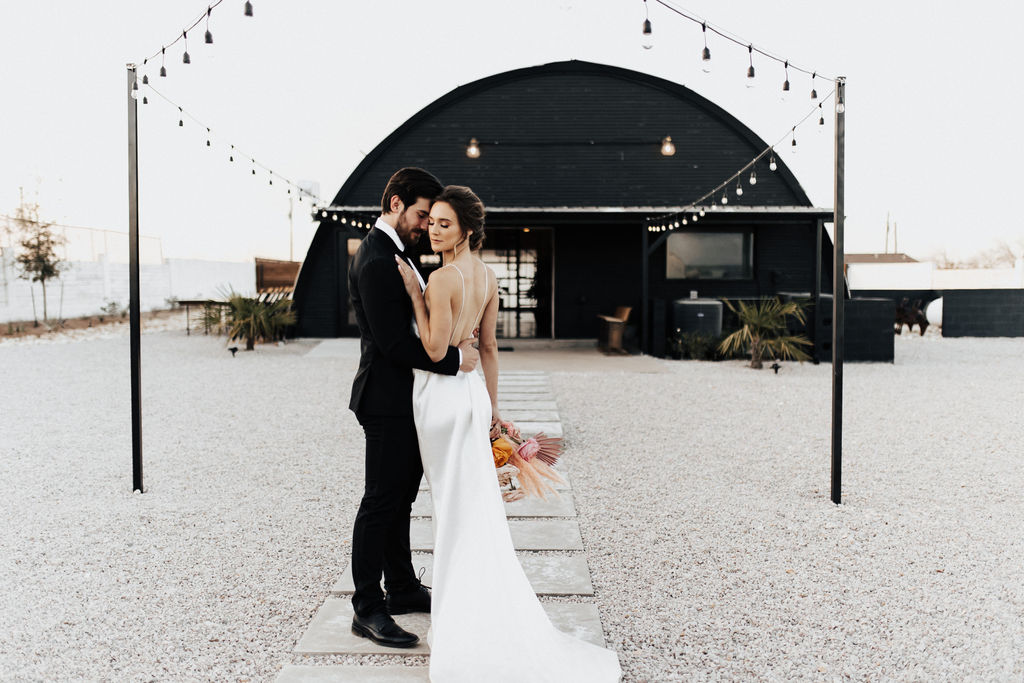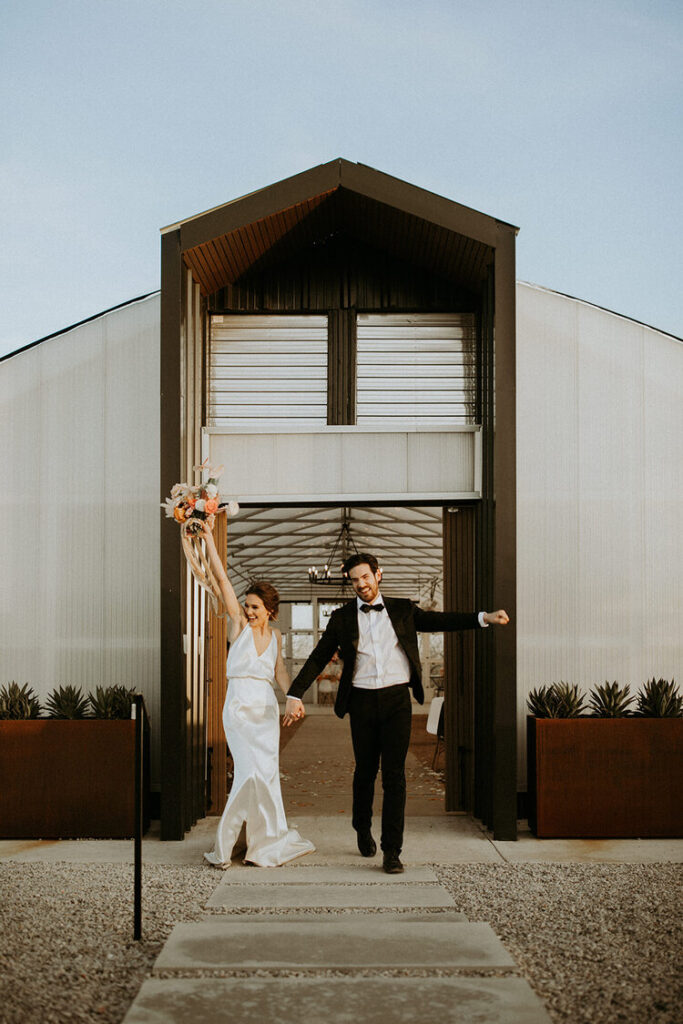 The Ceremony: Mixed black and white Eames style shell chairs created the counter point to the sunset color palette of the floral design. This juxtaposition is what helped give things a more edgy, modern and dare we say rockstar vibe. The modern ranch building perfects the look.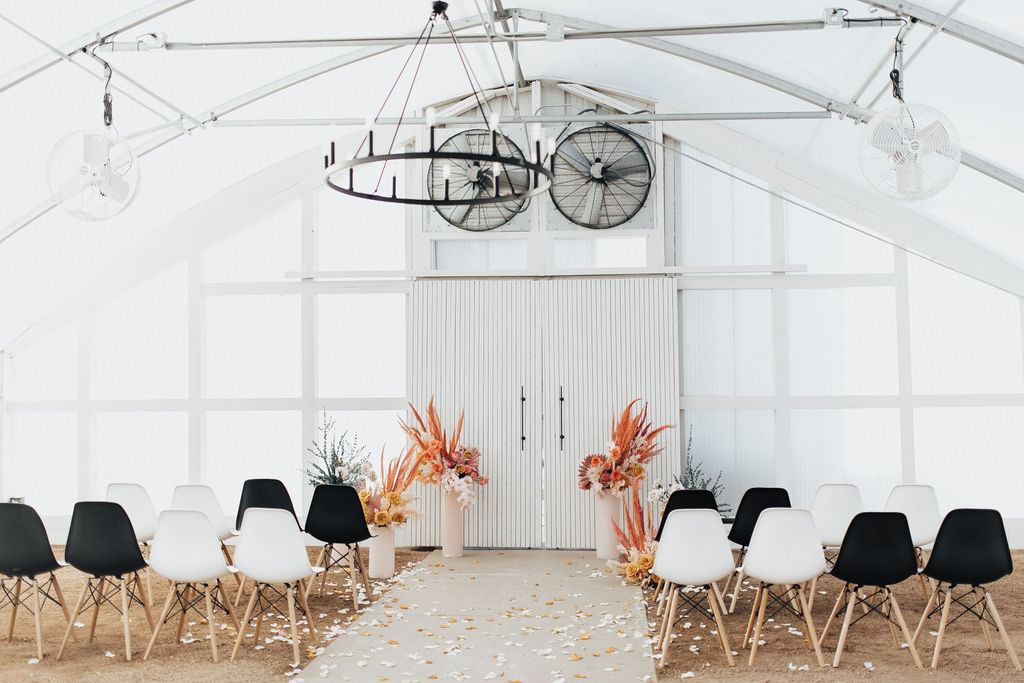 The Details: It's always in the details, no? Elements such as the modern graphics of the invitation suite and well-placed disco balls were the touches that, when played along side the romantic florals, gave everything an exciting and fresh feel.
The Tablescape: Wowza! The Grant Table and Shell Chairs provide a clean but handsome slate for the absolutely stunning floral design. If the tablescape weren't enough, the hanging centerpiece is an explosion of beauty and cool. Almost like a real sunset! More is more here.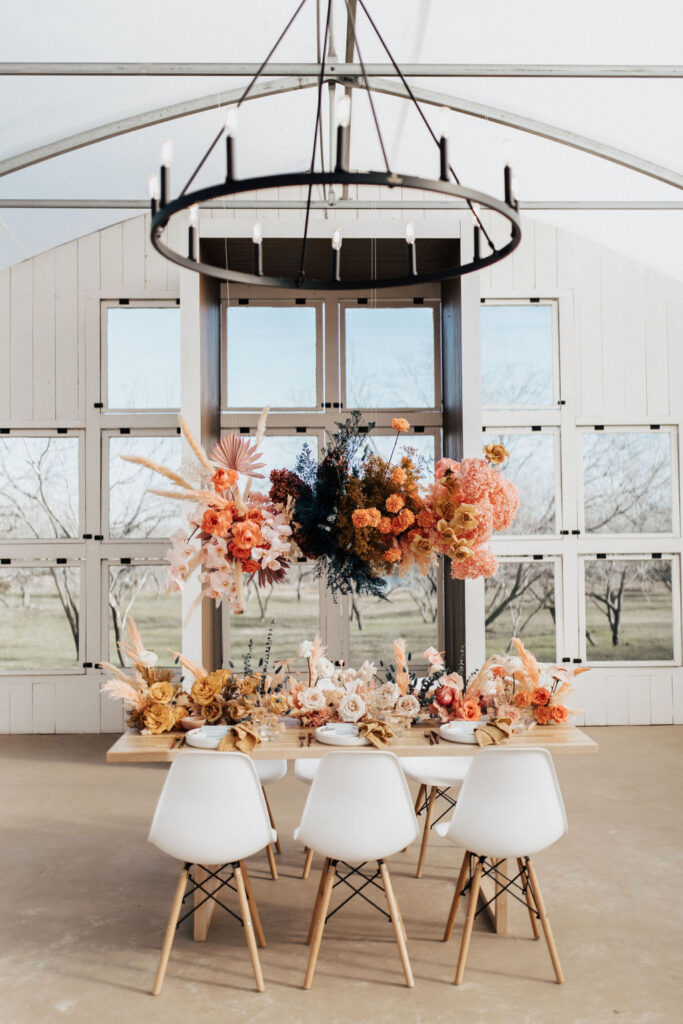 The Desserts: This might be the most disco rockstar part of this wedding—the dessert spread was absolutely one of a kind. Disco cake pops? A "fringe" groom cake. What!? We didn't even know creating that was possible. Serious kudos to Feathers & Frosting for her ingenuity and talent! (I know this tastes good too because I had them make my daughters 5th birthday cake recently and—no joke—I secretly ate all the leftovers.)
The Reception: The through line of this modern ranch theme continues to be the understated but elegant base pieces accented with the vibrant sunset color palette. The lounge is a great example of this, using our neutral white Colada Lounge Chairs and blush Pink Lady Sofa as the soft seating for the standout couple.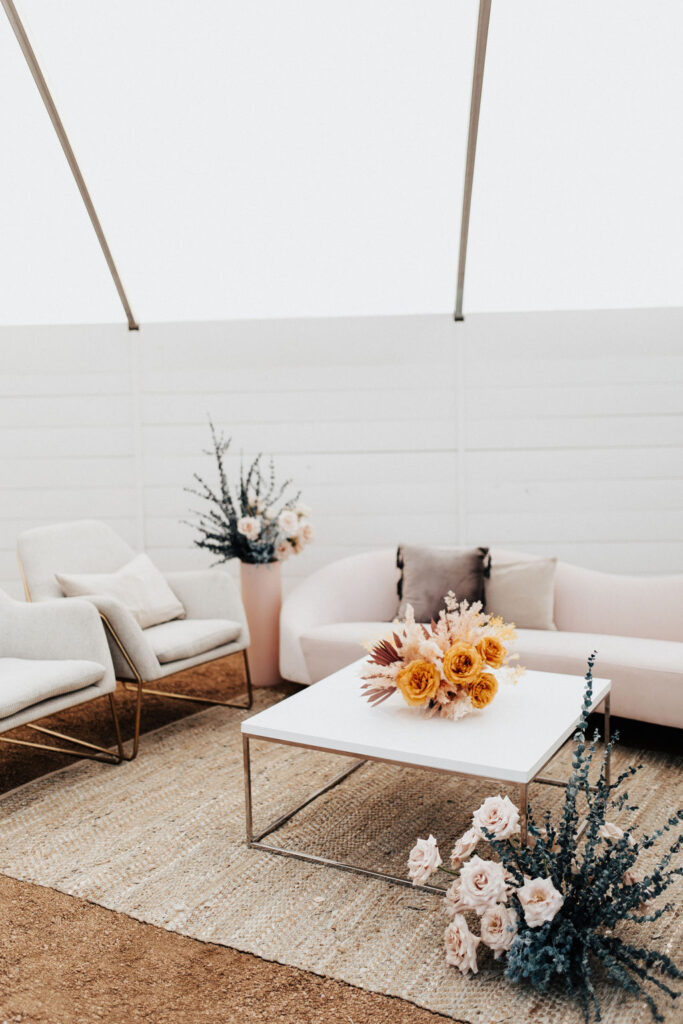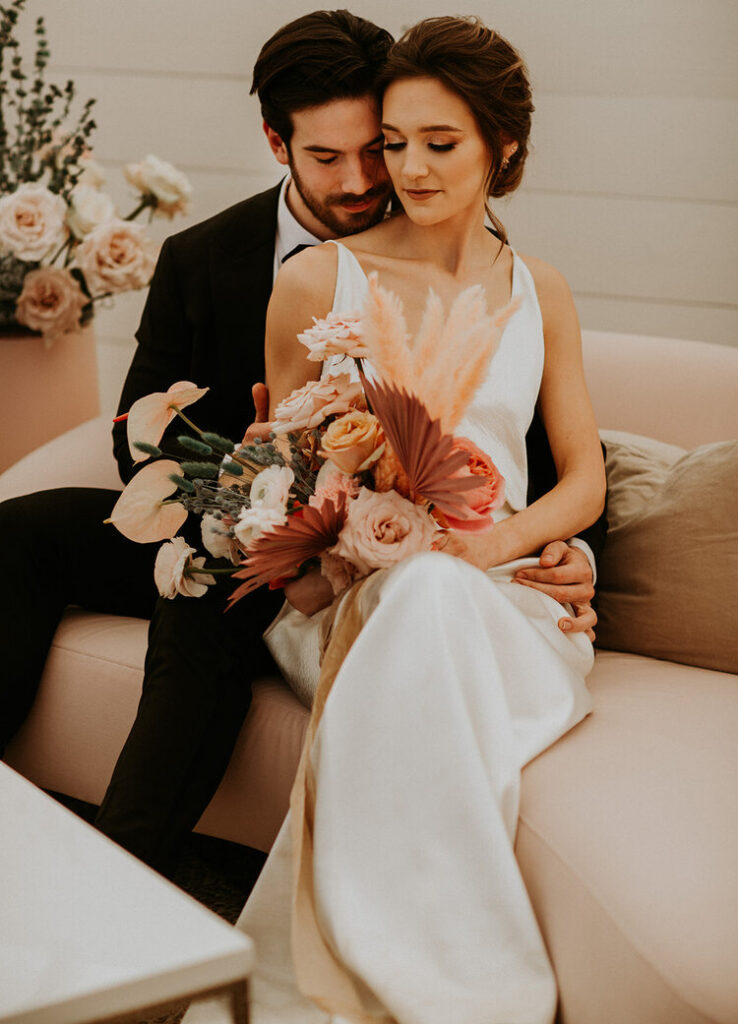 Oh hey…is that our new G&T Bar and Julip Cocktail Tables? We see you…just acting real cool but secretly making the scene 😉 These versatile pieces helps complete the Modern Ranch vibe—their clean lines juxtaposed with the farmhouse-esque building is what makes this look unique.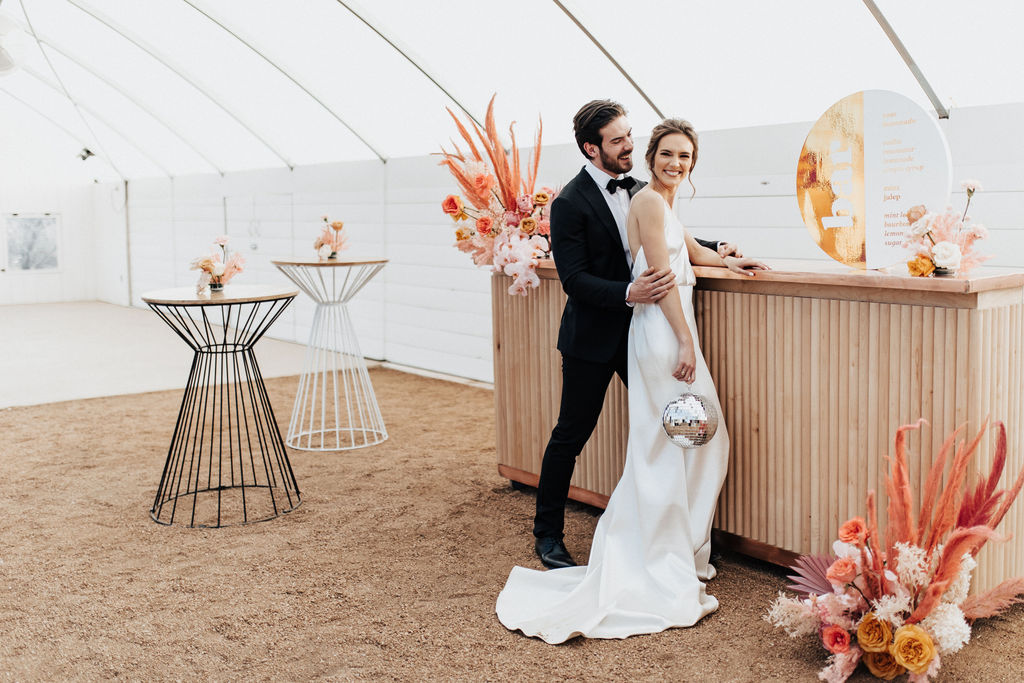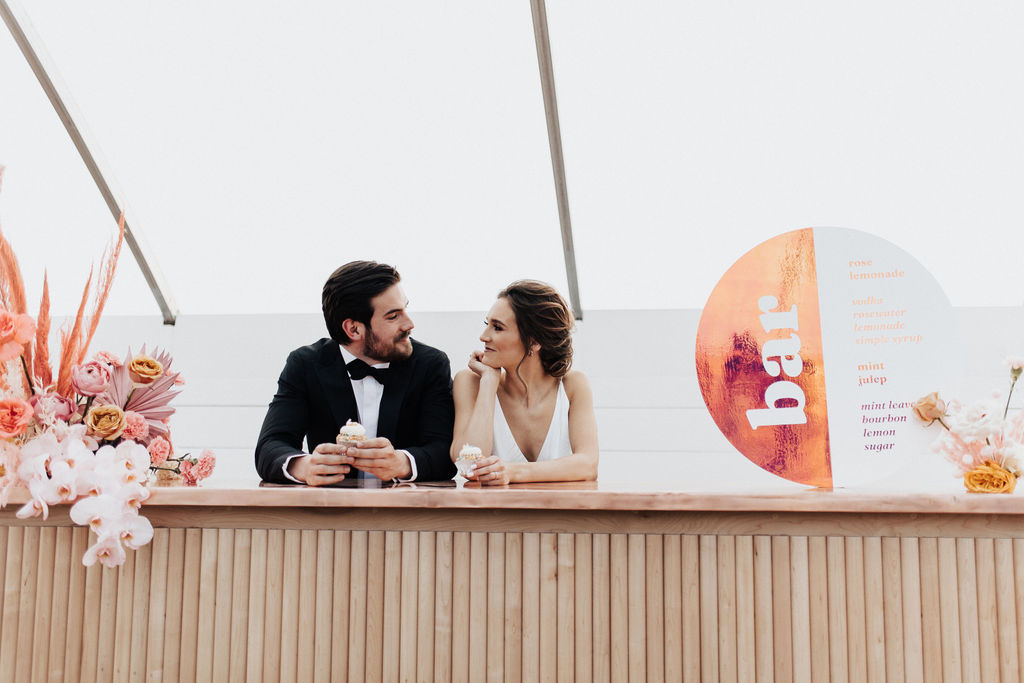 Partners in Party:
Organizer: The Shootout Society
Planner: XO Moreau Weddings
Venue: Camino Real Ranch
Flowers: Good Seed Floral
Speciality Event Rentals: Party at the Moontower (you're here, dude!)
Tabletop Rentals: Table Manners
Cake & Dessert: Feathers & Frosting
Signage & Calligraphy: Owl & Envelope
Hair & Makeup: Lux Beauty & Bridal
Bridal Gown: Unbridaled
Grooms Tux: Bonobos
Bride: @giles_for_miles
Groom: @noaharch82
Photography: Unique to this photoshoot was that multiple photographers took part. Everyone's photos were stellar and slightly different based on each artists style. All of the photos above were taken by Alicia & Co, except for where noted in the caption, which were taken by Cherece Casale.