Here at Party at the Moontower, we are lucky to be on the front lines of what's happening in the event world and are continually taking note of consumer preferences and requests in order to inform and grow our rental inventory. Based on what we've been seeing and hearing, here are some of the event rental trends for 2020…
---
Fostering Interaction Through Varied Lounge Seating
As we are all well aware, much of our time is spent in front of a computer screen—and, in addition, a record number of folks are working from home. While it's hard to beat working in your jammies, people do occasionally like to see and be seen, which is why live events are on the rise in all sectors—B2B, B2C, education and non-profit. In fact, according to a recent Harvard Business Review research report, "52% of survey respondents say event marketing drives more business value than other marketing channels."
In order to help foster in-person connections, one of the major event rental trends for 2020 we're seeing is less dining and row/theater-style seating and more lounge seating, as well as different types of lounge seating arrangements. To encourage more mixing and mingling, here's our take on varied lounge seating:
Lounge "islands" in the center of a space for people to congregate around. Couches placed in a 360 degree fashion for people to sit and face out in all directions.
Mixing lounge pods of varying sizes. For example, instead of 3 lounge areas, you might do 1 big lounge with lots of smaller 2-3 person mini lounges peppered in.
Along with lounge, we're seeing the inclusion of pub tables—cocktail height tables that are bigger than the standard 24″ highboy. These offer more standing room and emulate the comfort of being in a restaurant or bar.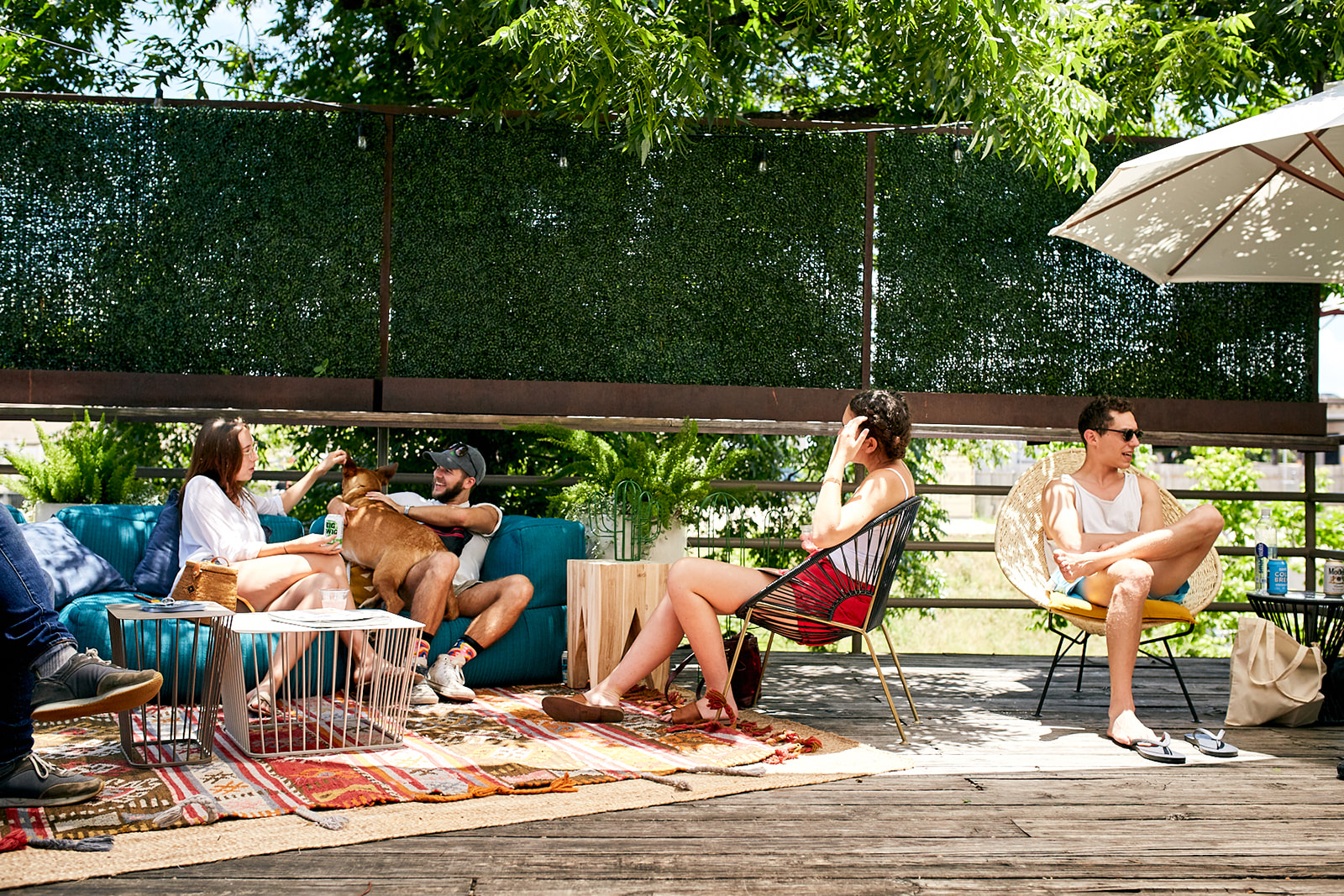 ---
Self-Care and Wellness Spaces
A quick Google search, "when did self-care become a thing?" leads to an interesting article from the New York Times, When Did Self-Help Become Self-Care?, that explores the history, transformation, and the many brands that have capitalized on this millennial movement. This particular trend has expanded from simple products like skincare, elixirs, and vitamins, into the experiential event realm.
One of the major event rental trends for 2020 that we expect to see include activities and services that speak to attendee's whole-health—mental, physical, and spiritual. Within the Austin event industry, we have seen and deployed wellness-focused breakout spaces like Acupuncture Areas, Massage Nooks, Tarot Card readings, and aura photos.
Activewear and health-focused brands have begun to design events around getting attendees to center their minds and move their bodies, building meditative stations and yoga sessions into their itineraries with fresh juice and healthy foods at the ready. While we're not above a cocktail or two (or 4), we love the idea that a party does not have to be centered around alcohol.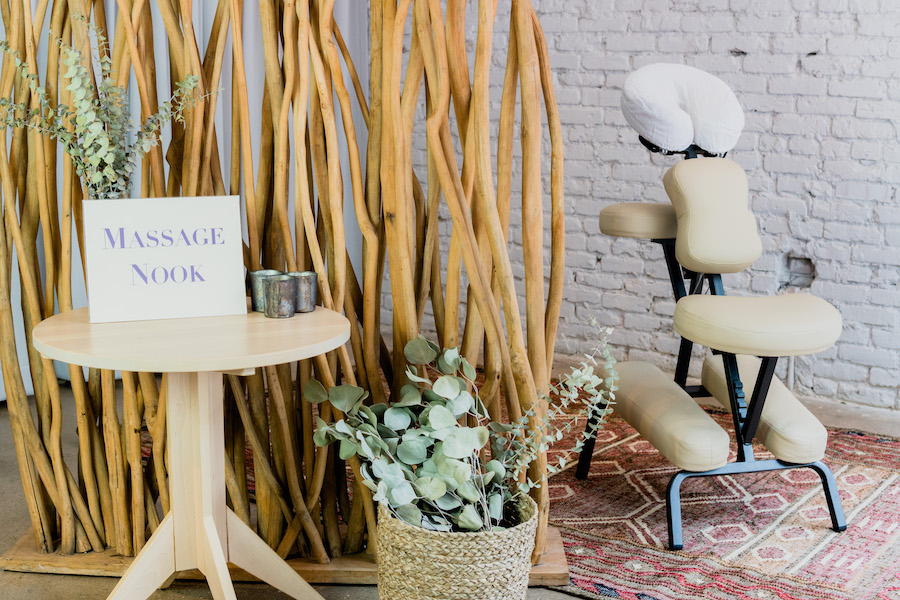 ---
Eco and Community Sustainability
Along the same vein of health and wellness, eco-friendly practices will continue to be one of the overall event trends for 2020. Anti-disposable plastic initiatives seen in many cities have extended to the event industry, forcing event producers to acknowledge how much waste can stem from single-use furniture and decor. Mother earth says rent!
But beyond the tangible waste, event planners and producers challenged to take into account the community sustainability of their event—in other words, what impact their event has on the community level. From an experience perspective, events are more memorable for attendees when there is a grander purpose or mission beyond the time spent onsite.
One way we're seeing this deployed is through grand "show and tell". We see clients use large display pieces, like backdrop walls, in creative ways to tell their story and encourage attendees to interact with the information. Not every event has to honor a non-profit in order to be considered worthwhile… the idea is to engage locally and ensure that the "why" behind the event is mutually beneficial. Simply using and showcasing local vendors, artists and food brands is an extremely impactful way to prove to your guests that your brand cares about the place it's in…and them!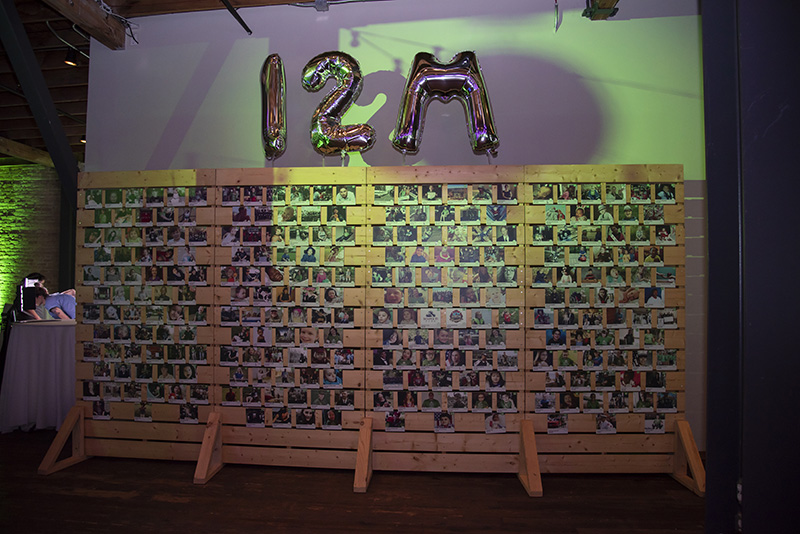 ---
Experience is King
The focus of any event or party thrower is to create a memorable experience for the attendees. This is more important now than ever, as people want, and expect, more intentional design and content they can really sink their teeth into. Translated into what this means for the event rentals and decor, we are prepared to see more engaging backdrops and overall space design.
For conference-like events, think amazing stage backdrops, stage sets and alternative layouts that look inviting and encourage conversation between speakers and the audience. Not only does the content have to be on-point, but the stage design design plays a big part in keeping attendees engaged, so they walk away feeling fulfilled and inspired, not like they just sat through an hour listening to their high school history teacher.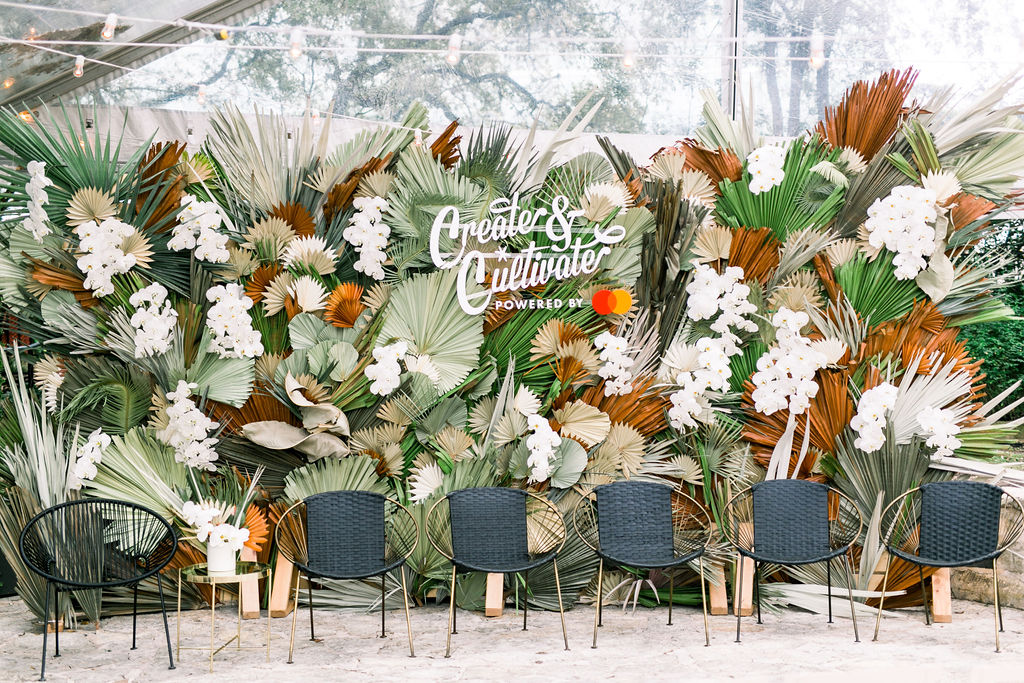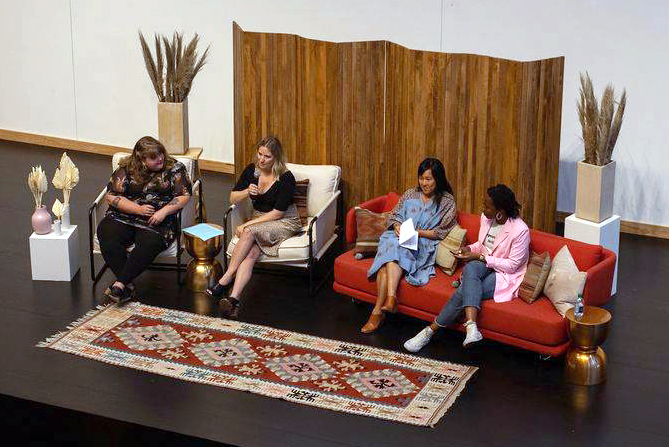 If the focus is on a series of experiences, like a corporate party, multi-day workshop or brand activation, then we expect to design spaces that encourage people to wander and explore the venue as well as foster interaction between them and each vendor or activity. This often looks like a mix of big and mini lounge areas, floor/low lounge seating, highboys and lower small bistro-like seating. Since it's a given that people follow the food and drink, multiple bars and food stations in various locations help to guide guests to experience the whole venue.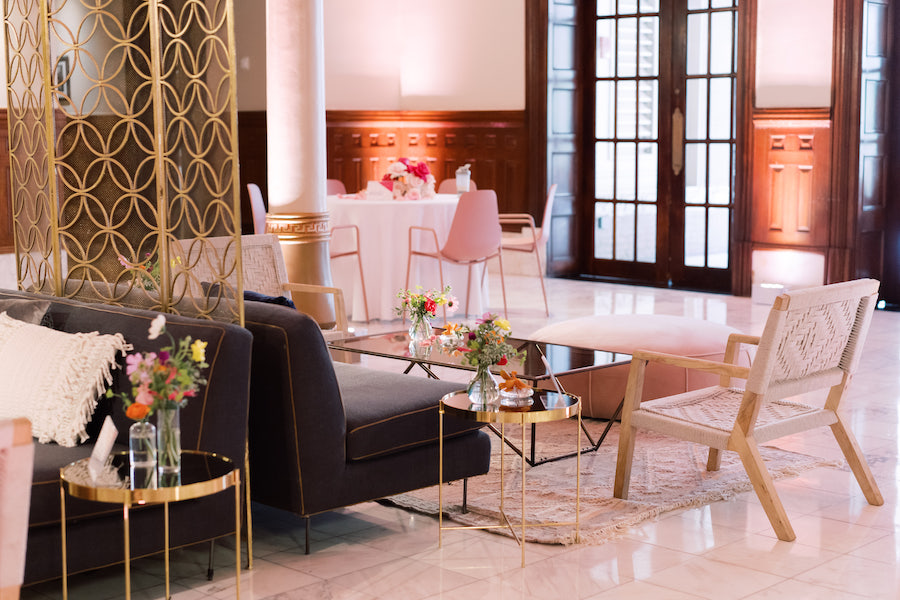 ---
With a wealth of events geared towards wellness and sustainability with an emphasis on interaction and memorable experiences — we're looking forward to what 2020 has in store for us!