If you're an event planner or producer tasked with organizing a brand activation during South by Southwest this year, it's important to know that, as Austinites, we love events that keep us moving and grooving. We also like to think outside the box and don't shy away from a brand activation ideas that seems a bit out of the ordinary. Below are some of our favorite ways to enliven any space—from more all-encompassing experiences to activities that will make the most out of any small corner.
SIT BACK & RELAX
THE POP UP COFFEE SHOP EXPERIENCE
Create the relaxed energy of your favorite neighborhood coffee shop with a pop-up version unique to your client's brand. We've got you on this one! We provide a variety of comfortable seating and partner with professional baristas from Creature Coffee to create a fully-functional coffee shop that can be set up at any venue, inside or out. Reach out to see how we can customize a coffee shop for your event!
---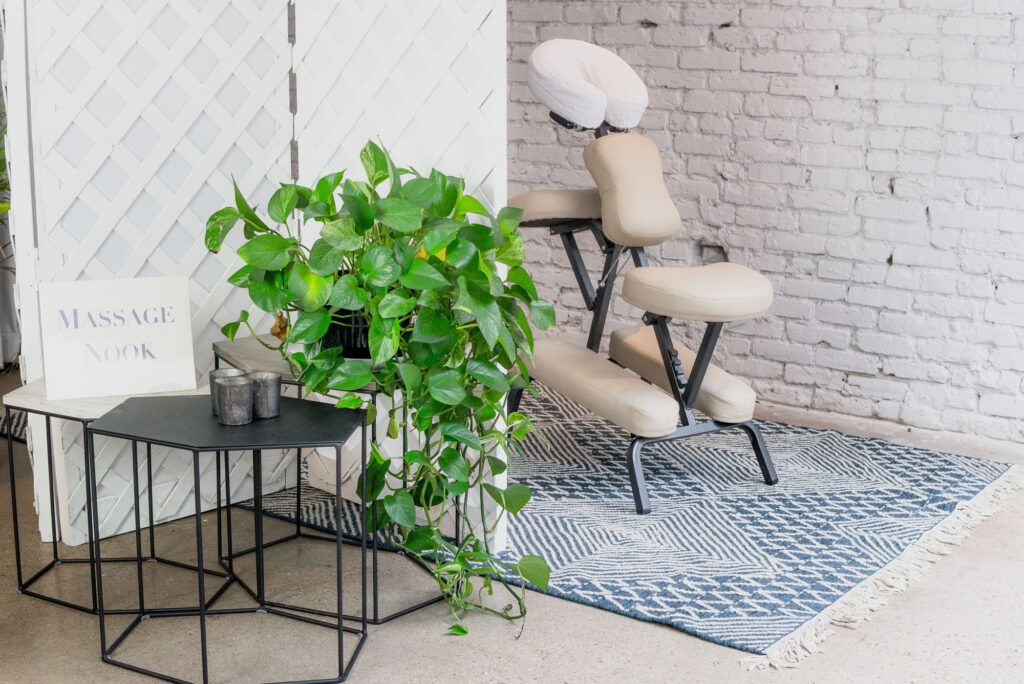 MASSAGE NOOKS WITH LiveLoveRelax
For brands looking to help people de-stress, offer event attendees the opportunity to set their worries aside and relax in a massage nook. We often partner with LiveLoveRelax to create a calm private corner where the masseuse can do their thing.
---
HAIR BRAIDING & NAIL BAR
If you read our Event Rentals Trends for 2020 blog post, you'll know that self-care is a popular theme to integrate. If you're able to partner with a local salon or are planning for a national hair or nail brand, the set-up is rather simple and keeps attendees engaged and leaves them feeling pampered! All Dolled Up and Tara Cooper Makeup & Hair are great folks to call for a proper glam party.
---
INTRODUCE THE NATURAL WORLD
TERRARIUM BUILDS WITH PLANT PARTY
Give event attendees the opportunity to get their hands dirty and walk away with a gift to remember you by! Plant Party provides everything anyone could ever need to build a beautiful terrarium with plenty of personality. We'll provide the seating and workspace required to get hands-on.
---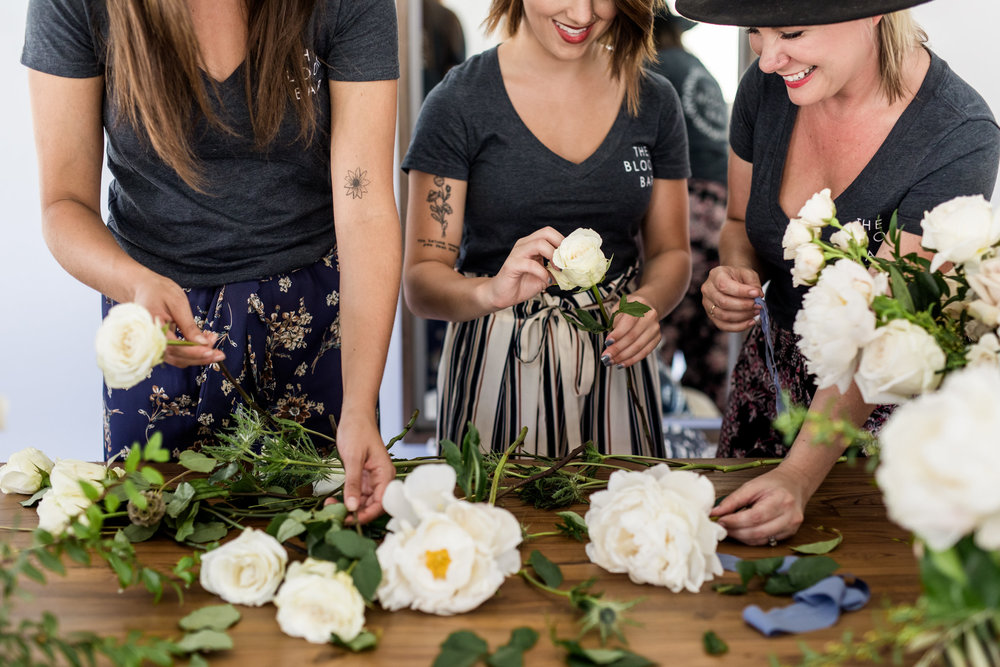 FLOWER BAR
Hold off on your floral order and put event-goers to work! Brands like The Flower Social offer fun interactive floral events where people can learn the art of floral arrangements and then keep the product of their efforts. A popular variation on this is a "flower-crown bar".
---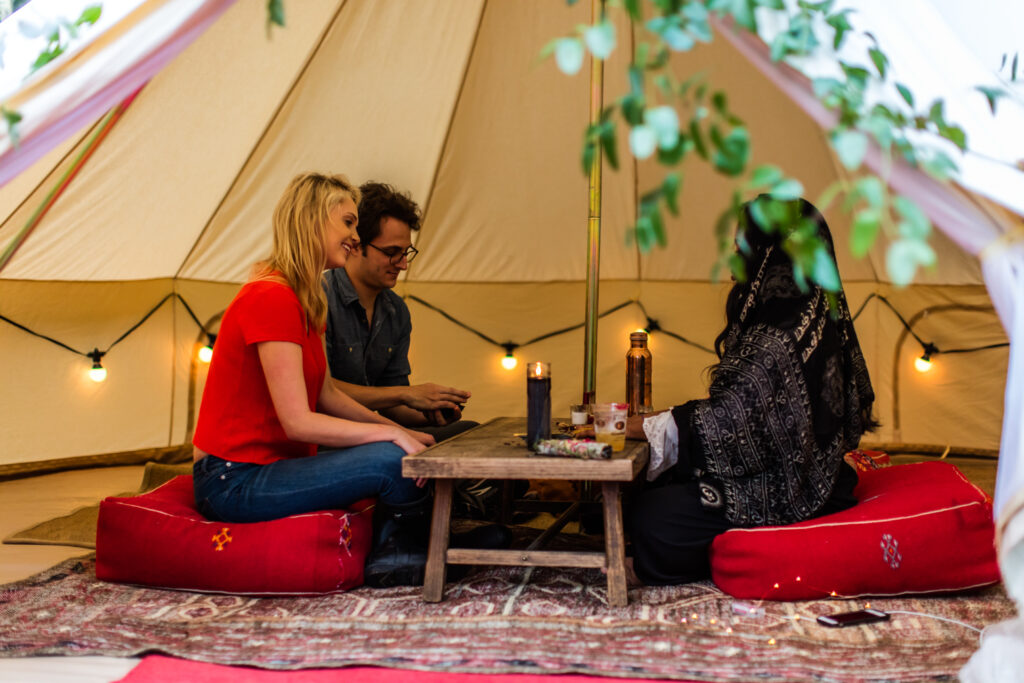 TAROT CARD READING, BIRTH CHARTS & AURA READINGS
Welcome to the mystical land of Austin. Tarot cards, birth chart and aura readings are all very real options for your next event. We'll set the tone with plenty of floor pillows, low tables and textiles — you sit back and take it all in. A few of our favorite vendors include La Mystica Tarot, Far Out Astro and Mood by Moss Aura Photography!
---
INCORPORATE LOCAL ARTISTS
VOGUE VIGNETTE
Vogue Vignette is a vendor and category of their own. They create an entertaining, interactive, one-on-one fashion art experience for your guests that captures their spirit and their style. It's truly an out-of-the-box activation and gives your guests something to take home.
---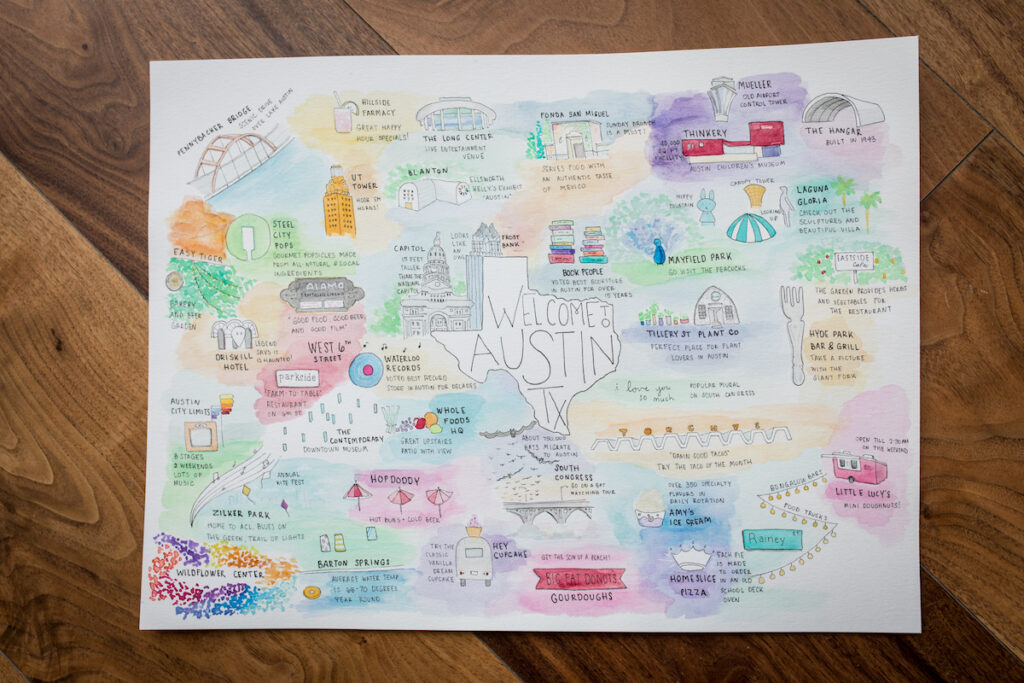 CUSTOM WATER COLOR ART
A pop-up booth that includes WaterColorATX gives guests the opportunity to provide a photo [or bring their pet!] for a custom watercolor painting. Anna frequently paints intricate maps of Austin neighborhoods as well as some of the iconic sights of the city. We love her work and think it could be a great activity to incorporate into your event.
---
GET GUESTS MOVING
SILENT DISCO/SILENT YOGA
Silent Discos are a great idea for smaller events that want to generate big energy. Encourage an all-out dance party with a literal disco theme and a groovy LED dance floor! Or, on the other end of the spectrum, give guests some much needed "me-time" by offering silent yoga sessions (bonus points for doing it on a downtown rooftop.) Adding functional and pretty accents, like floor cushions and pillows, make things look nice and keeps everyone comfortable.
---
LAWN GAMES
OK, so this one isn't that "creative" per se, but party games are tried and true. Spice up the classic lawn game, Cornhole, by organizing an event-wide tournament with prizes for the top teams. A little friendly competition gives people, who are really just looking for an excuse to hang out and drink, a reason to stick around (which also equates to more time spent with your client's brand). Our corn hole rentals can be branded with any vinyl logo and also come with LED lights so games can go well into the evening!
---
HANDS ON A HARDBODY
OK, so this last one we're not officially counting in our "10" because it is really only for those of you whose client is Ford or Toyota or the like. But pulling off a stunt-like competition like this is a perfect brand activation in a crowded market like SXSW. For those of you who don't know what the heck we're talking about, "Hands on a Hardbody" is a competition, usually thrown by a car dealership, which pits contestants against each other to see who can keep their hand on a car or truck for the longest amount of time. Whoever endures the longest without leaning on the car or squatting wins the car. People freaking love this competition—participating and watching—and it's been done many times over, but never gets old. This idea could work with other products too, if they're valuable enough for people to want to compete for (computers, bikes, hard drives, etc). If you haven't seen the 1997 cult classic documentary, Hands on a Hardbody, check it out now (image above is a still from the film).
---
If you have any questions about Austin vendors or rentals that can help elevate your SXSW events — reach out to us. We love to think out of the box and encourage the touch of "weird" that Austin is known for.