Whether a wedding, conference, or art opening, it's safe to say cocktail hours are an anticipated and appreciated part of any event. So why not have cocktail rentals that are functional and cool? Just say no to spandex highboy covers with some of our beverage-friendly table & chair options and let us join you for cocktail hour.
Cocktail Table Rentals
For larger events where guests are more likely to roam around and explore the venue, we suggest pieces like the Martini or Gibson Cocktail Tables. These rentals give attendees the option to set down their drinks and talk with their hands. They're also appreciated by those who have been on their feet for a bit too long and need a place to lean and recharge!
There is no need for linens on any of our pieces — they look good on their own.
The Rye Cocktail Table can easily serve the same purpose while conveniently allowing for 5 people to gather around. With its hexagon shape, a few can be set-up alongside each other to create an even larger communal table.
Now that we've distilled the illusion that cocktail tables have to be round, let us introduce the Hemingway Pub Table. These industrial style tables seat up to six people and can be strung together to mimic a bar top.
For a more intimate feel, opt for the the Belvedere Bistro Table. Its marble top and gold detailing make it a perfect choice for a modern event, especially when paired with the Prosecco Chair (which we'll introduce shortly).
Cocktail Chair Rentals
If you're looking for design-forward chair rentals, then you're on the right website because we're collectors! For bar height cocktail tables, our line-up includes the B52 stool, which is a sleek and minimalistic piece that goes with just about anything.
For a look that's industrial yet refined, we can't get enough of the Guinness Barstool and its hairpin legs. Oh, and let's not forget the Cognac Barstool with its rich, warm color.
For those on the hunt for the perfect summertime bar stool, the Palma Barstool is the move.
If you're drawn to the bistro-style table, we have plenty of low seating to choose from! You can't go wrong with a classic like the Negroni Chair.
To add a touch of fancy, the Prosecco Chair is the rental you're looking for.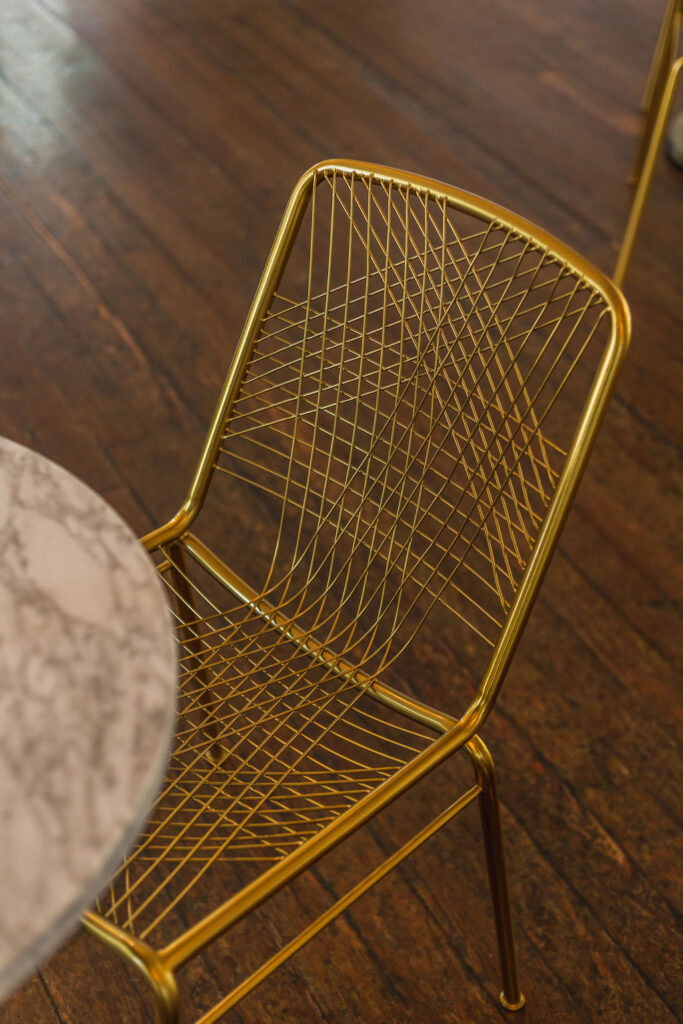 We love a good cocktail, especially when enjoyed in a comfortable and stylish setting! We have curated an extensive inventory of bar height tables and stools as well as more intimate set-ups to encourage guests to slow down and stay awhile.
Stay tuned for a breakdown of all we have to offer when it comes to serving drinks from a functional and standout bar!